There's no right way to heal from breast cancer. It takes away your hair, your body, your femininity and leaves you scarred, damaged, and lacking self esteem. Fear of recurrence never goes away. You grieve what you once were. But don't let that define you. Find your sunshine. Self-care helps everyone to live a happier, more balanced life. Setting aside time each day to care for yourself mentally and physically can aid in the healing process.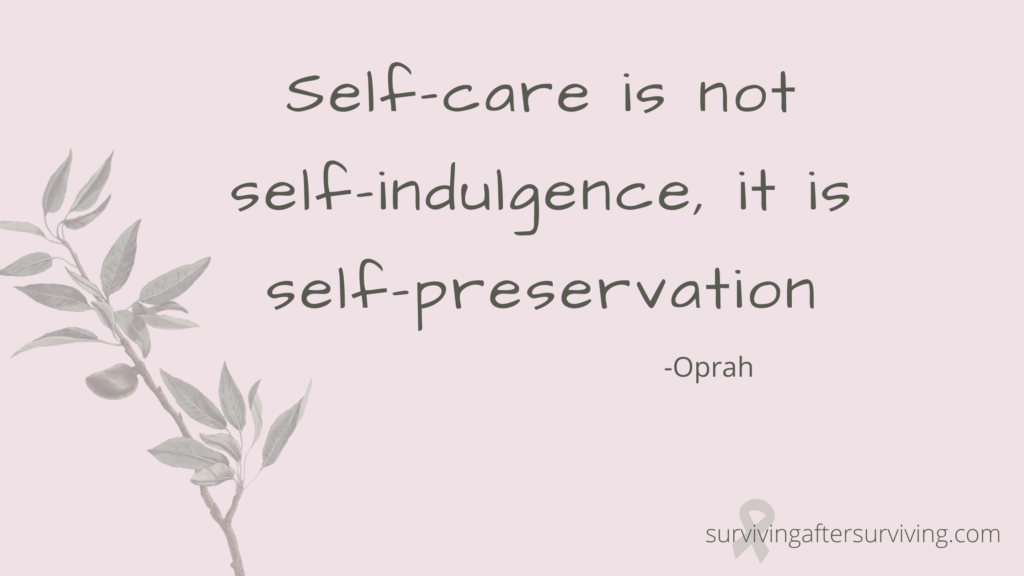 But what is this self-care we are hearing so much about? How do we even start? Self-care is anything we do intentionally to help with mental, emotional and physical well being. It's taking time to fulfill your needs. We so often forget about ourselves while we are busy taking care of everything else. Take some "me time" everyday with activities you enjoy. Set a time aside that is for you. It can be as simple as a hot bath, journaling, coffee in your favourite cup, or 10 minutes of mindfulness. Maybe it's a walk outside, reading a book, doing some gentle yoga. You can even spoil yourself with some pampering with a mani/pedi, a massage or a meal out with one of your favourites.
Be kind to yourself. Cancer is hard. We have no control over the things happening to us but we can control what we do for us. Find that 10 minutes everyday. Grab those flowers for yourself from the grocery store. Go for coffee with that friend. Taking the time to care for yourself is important in your recovery. Find the things that make your heart smile. Learn to love yourself again…you deserve it.